"Negro emancipation"
Saturday August 2, 1834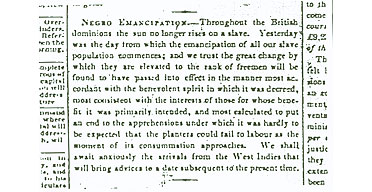 How the declaration was published
Throughout the British dominions the sun no longer rises on a slave. Yesterday was the day from which the emancipation of all our slave population commences; and we trust the great change by which they are elevated to the rank of freemen will be found to have passed into effect in the manner most accordant with the benevolent spirit in which it was decreed, most consistent with the interests of those for whose benefit it was primarily intended, and most calculated to put an end to the apprehensions under which it was hardly to be expected that the planters could fail to labour as the moment of its consummation approaches. We shall await anxiously the arrivals from the West Indies that will bring advices to a date subsequent to the present time.