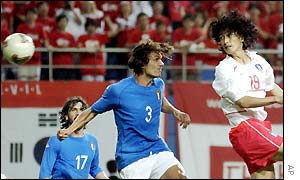 Perugia president Luciano Gaucci said his club's decision to sack South Korea's Ahn Jung-Hwan was not for dumping Italy out of the World Cup but for his offensive remarks afterwards.
Gaucci denied the club's decision had been made before the finals, or that it was linked to Ahn's decisive goal.
He insisted it was purely for comments "offensive to me and the whole Italian nation".
Ahn scored the 'golden goal' winner as Korea beat Italy 2-1 to knock their more illustrious opponents out of the tournament.
"It has nothing to do with the goal he scored against Italy," said Gaucci.
"He could have scored 10 and I wouldn't have felt offended. It was simply the comments he made."
"He said Korean football was superior to Italian football, when Italy is a footballing nation.
"We have treated him well with all our love, but his comments were offensive to me and to the whole Italian nation.
"I feel offended by what he said. He should respect other nations as well as his own."
Ahn missed a penalty earlier in the match but he was hailed as a national hero in Korea when his 116th-minute header set up a quarter-final with Spain.
Gaucci earlier told Italian sports daily La Gazzetta dello Sport:
"That gentleman will never set foot in Perugia again.
"He was a phenomenon only when he played against Italy.
"I am a nationalist and I regard such behaviour not only as an affront to Italian pride but also an offence to a country which two years ago opened its doors to him.
"I have no intention of paying a salary to someone who has ruined Italian soccer."
Ahn Jung-Hwan joined Perugia on loan from the South Korean team Pusan Icons in the summer of 2000, but he scored just five goals in 29 appearances.
Korea's victory has been greeted with fury in Italy, where the referee and soccer's ruling body Fifa have been accused of fixing the match.
Reproduced from BBC Sports:
http://news.bbc.co.uk/sport3/worldcup2002/
hi/team_pages/south_korea/newsid_2054000/2054072.stm