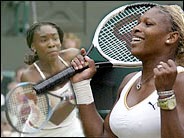 By SELENA ROBERTS NY TIMES
WIMBLEDON, England, July 4 — In one fleeting moment of vulnerability, on a rare break point against her today, Serena Williams noticed Amélie Mauresmo sneaking up to the net, crouched as if running for a foxhole.
Instead of curling a shot around Mauresmo or lobbing the ball over her head, Williams aimed at her semifinal opponent as if she were the target in a dunk tank. She unleashed a forehand that produced a flinch by Mauresmo as the ball nearly pockmarked the throat of her racket.
This was the reward for Mauresmo's risks. On one merciless shot after another, Williams would not ease up for a moment during a dominating 6-2, 6-1 semifinal victory on Wimbledon's Center Court.
Nothing could sidetrack her, not a break point in the second set, not the pressure to hold up her end of an all-Williams final, not the chance to take over the No. 1 ranking, not even the arrest, and release, of her accused stalker outside the grounds.
"I don't pay attention to anything," said Williams, who was unaware of the arrest made by Wimbledon police on Wednesday until an hour before she played today. "I don't see how it could affect me, him being arrested. I'm a strong person. I try not to let things like that affect me."
Nothing could prevent the inevitable. In the span of two hours on the court, Venus Williams completed the quick dismissal of Justine Henin, 6-3, 6-2, before Serena crumpled the plans of Mauresmo.
On Saturday, Venus and Serena will meet in the third Williams family final in the last four majors, with the big sister taking the court as the No. 2 player in the world after the little sister took No. 1 from her today. It is a flip-flop for history.
"I'm still waiting for the catch," said Serena, who will be No. 1 no matter how the final ends. "There's always a catch. I'm very happy right now. I've worked really hard. I deserve it. I do."
Only a year ago, players and Tour officials were heard grumbling about Serena's lack of dedication, upset about how she withdrew from events at the last minute, irritated over her mysterious injuries.
Between then and now, Serena ditched what her mother, Oracene, refers to as her "extracurricular activities" and let tennis consume her. Whether she has been motivated by pride — or the potential for a lucrative new shoe deal when her current one soon expires — Serena has shown what a serious single-minded approach can mean for the Tour — even more grumbling.
Now, players and officials are bored with the dominance of the Williams sisters. With the novelty worn off, some wonder if their matchups are in the best interest of tennis.
"To me, I think it's a little bit sad for women's tennis," said Mauresmo, the ninth-seeded Frenchwoman who had not been in a major semifinal since the 1999 Australian Open. "But maybe it's not the point of view for everybody.
"I think people are going to get bored about it. It was already the final at the French Open. You know, I can't count how many people since yesterday told me, `We don't want a Williams final,' or whatever. Some people think like this. Some people think it's good. Everyone has a different opinion."
Perhaps fueled by jealousy — or the suspicions that the outcome of Williams sisters' matches are predetermined — players have grown more resentful during the last few months. Venus and Serena simply ignore the talk.
"I think it's good for tennis," Venus said. "I think it's good for Serena and me more than anything."
A Wimbledon final presents another chance for Venus and Serena to add to their amazing story, but also create a bigger legacy for themselves as players. Right now, no one on the Tour can touch either one.
Henin was the first to find that out today. For a brief instant, Henin's topspin ground strokes were confounding to Venus, who fell behind a break of serve, down by 2-0 in the first set. But after getting the measure of the diminutive Belgian, Venus began to apply the pressure with one round-house shot after another.
"The first two games, it took like 15 minutes," Venus said. "By then, I was nice and warmed up."
Before Henin knew it, Venus had run off eight games in a row. If Henin dared come to the net, Venus was there to pass her with one of 21 winners.
"She didn't let me play," Henin said. "I tried to do my best. I tried to go to the net. I was serving well, but she made great returns. I had nothing to do.
"I think she was too strong, too good. She was so aggressive, so powerful, so what could I do?"
Mauresmo was left pondering the same question. A day after she unveiled a flawless net attack to upset Jennifer Capriati, Mauresmo hardly had a chance to unroll the blueprint against Serena.
She would not allow it. Hitting forehand cross-court winners from four feet behind the baseline, putting a soft touch on drop volleys when pulled into the net, Serena played as well as anyone had seen.
Mauresmo was overwhelmed. At one point, a fan yelled, "Amélie, you can do it." Mauresmo smiled and shrugged, thankful for the support, but too realistic to believe in miracles.
"It's not the same person on the other side of the net," said Mauresmo, comparing Serena to Capriati. "That's it."
The more they play on the Tour, the farther the separation between Venus and Serena and the rest of the tour. Only a year ago, there was only Venus to fear, but as their father, Richard Williams, suggested a decade ago, Serena may be the better player.
Amid a list of distractions today, Serena tunneled into the match and proved her enigmatic father right yet again. For now, Serena is the No. 1 player on the Tour.
"I'm really excited," Serena said with a half-moon smile. "Shed a few tears. I'm a real emotional person."
She channeled those emotions perfectly today.
http://www.nytimes.com/2002/07/05/sports/tennis/05TENN.html